Hatchet Lake Lodge
Each summer, anglers from across the U.S. travel north of the 58th parallel to Saskatchewan's Hatchet Lake Lodge. One of those anglers is Stephen James. Now a resident of Denver, Steve first experienced the pristine beauty of this northern fly-in fishing destination in 1993 while living in San Diego. Since then, hes come back 15 or 16 times, returning almost every summer to feed a passion for fishing that was passed on to him by his father and to enjoy the peace and quiet of a far north wilderness experience.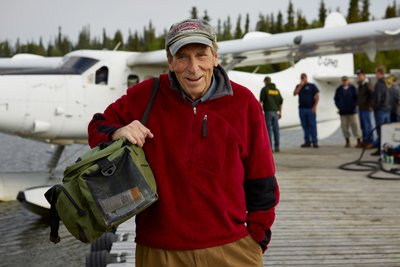 Guests at this remote fishing resort have access to 13,000 square km (5,000 square miles) of prime fishing waters. Hatchet Lake itself is 32 km (20 miles) long by 16 km (10 miles) wide and the lodge has another 20 licensed lakes all within a short float plane ride away.
One of those 20 licensed fly-outs is Durant Lake. Here, when it is time for lunch, First Nations guides will boat their clients up a stream to a picturesque spot by a big eagles nest. It is a spot that Steve has returned to many times. While the guides are preparing a shore lunch of fresh caught walleye, he knows what he is going to do. With a three-weight fly rod in hand, he hikes further upstream to a place on the river that hasn't changed since forever.
"We stand out there in water that is two to three feet deep in this absolutely gorgeous river and within thirty to forty minutes I can catch and release a dozen grayling," he says. "That is probably the most peaceful experience that I have ever had in my life. The fishing is fantastic, but the experience of feeling that much peace and that much serenity is overwhelming."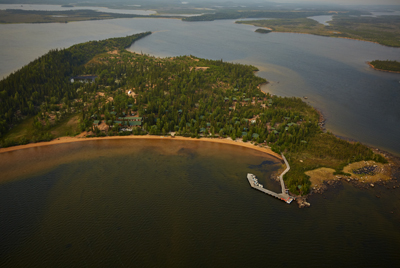 Contrasting this quiet and serene experience is the adrenaline rush of hooking onto a great big lake trout or northern pike with a nine-weight fly rod. When this happens, Steve calls the ensuing action "a circus." One of those circus-like events occurred on his second visit to Hatchet Lake Lodge, before the newly indoctrinated fly fisherman figured out how to properly use his new equipment, leaving him with a fish tale he still laughs about. While the guides were preparing lunch, he went to practice his fly casting off a rock ledge with a steep drop off. As he was stripping out line, a 20-pound lake trout came up right in front of him.

"I wasn't expecting to catch a fish. I was just trying to figure out how to use my fly gear better when I saw this huge mouth come up and grab my fly," he said. "The fish went the other way and took my backing so far down I thought I was going to lose him." His inexperience with a fly rod brought out many laughs while trying to reel in the big fish. Laughing with him was his guide.

Since then, Steve has caught and released many big fish at Hatchet. He estimates that the biggest lake trout he has ever caught on a fly weighed somewhere in the upper 20's. The biggest pike weighed an estimated 30 pounds. Bringing it in was a circus that lasted some 15 minutes. It measured out at 49 1/2 inches long. "I stretched that fish as hard as I could because I wanted to get it to 50."

Hatchet Lake Lodge lies 1,770 km (1,100 miles) north of Minneapolis. The surrounding landscape is typical Canadian Shield. Lakes are everywhere. Only 100 km from the Saskatchewan/Northwest Territories border, the northern coniferous forests that touch shorelines here are already beginning their transition to sub-Arctic forest tundra. Except for other lodge staff and the anglers who have come here in search of trophy-sized lake trout and northern pike, visitors are more likely to see a bald eagle or a wolf or a moose or a black bear than another human.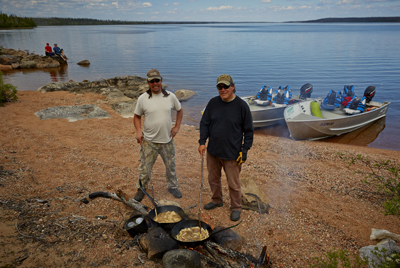 While this dream fishing destination may seem impossible to get to, making your way here is easier than you think. The lodge is a two-hour flight from the city of Saskatoon, with direct air connections to Minneapolis via Delta Airlines. Hatchet Lakes chartered northbound flight departs at 6:45 a.m. Shortly after nine a.m. guests have landed, have boated from the island airstrip to another island where the lodge is located, have sampled fresh buns baked that morning as part of a delicious breakfast and are already preparing to head out onto legendary fishing waters (On the return flight, guests arrive back in Saskatoon before noon, in time to make same-day connecting flights home).

The quick arrival is made possible by the lodges 6,000 ft. GPS equipped airstrip, built to Transport Canada's standards for gravel runways. The airstrip owes its existence to the vision and hard work of the lodges founding owner George Fleming. In 1960 a 16 year-old George found work with the Hudson's Bay Company and moved from his boyhood home in Scotland to northern Saskatchewan. Three years later he purchased a small cabin on a little-known lake that was teeming with huge fish in great numbers and embarked on a life-long passion in the outfitting industry.

Over four decades, Hatchet Lake Lodge was built up to its licensed 60-bed capacity and George became known in trophy fresh water fishing circles as The Man from Hatchet. In the mid-seventies, during winters coldest days, George drove and dragged heavy equipment 64 km (40 miles) over frozen lakes, rivers and swamps to his lodge. The equipment would be used to build the runway that would connect his lodge to the outside world.

Celebrating 52 years in business this past fishing season, Hatchet Lake Lodge is now operated by Harvey Kroll, who has been associated with the resort since 1991, when he was hired by George to manage operations. In 2011, after George passed away, Harvey, in partnership with Osprey Wings, purchased the lodge. Like his former boss, Harvey's passion for the business stems from his love of northern Saskatchewan and the enjoyment he gets from hosting lodge guests.

In the 80's and 90's, the lodge hosted as many as 1,000 guests annually. Since then they have scaled back to hosting the 300-400 guests currently entertained. The operations down-sized approach suits Harvey just fine.

"Smaller groups make it easier to provide the kind of customer service we strive for and it helps maintain and enhance the quality of the resource," he says, noting that all of his customers value and appreciate the more intimate atmosphere. The Twin Prop Beechcraft 1900 that now brings guests in and out during each five-day cycle holds just 19 passengers at capacity. Occasionally these passengers are joined by a few other guests who fly their own planes to the lodge from various points across the U.S. and Canada.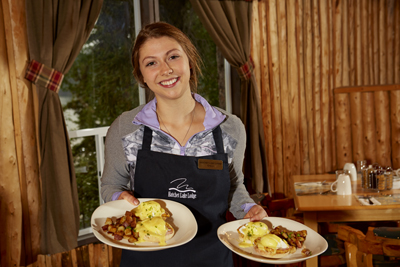 Ask Harvey what makes his lodge one of Canada's premiere fly-in fishing resorts and he will tell you it is a mixture of many things. Besides the incredible fresh water fishing, the lodges five-star wilderness service, combined with accommodations described as "upscale rustic," provide a wonderful experience for anglers. Staff outnumber guests by a ratio of two to one and they all embrace Harvey's commitment to service excellence. This translates to simple things like a hand shake on the dock, a guaranteed smile at the dinner table and lots of attention to detail, like lighting a fire in your cabin before you wake up to take the chill out of a cool morning.

It doesn't take long to realize that good food is also important. The lodge employs two chefs and flies in fresh food weekly.

Many of the First Nations guides employed at the lodge have fathers and grandfathers who also guided there over the years. They know the lakes and the ways of the north like the back of their hand. They can build a fire and filet and cook up fish in no time. And they know how to find fish.

Incredible fishing, quality accommodations and excellent service are big parts of a finely tuned recipe for success that stands behind what Harvey likes to tell his prospective customers: "I can guarantee — if you come once— you will come again."

His confidence is bolstered by the fact that 90 per cent of the lodges current customers are repeat visitors. Like Stephen James, many first experienced the lodge over two decades ago. Some guests first visited 40 years ago and still return. In any given year, U.S. guests come from as many as 36 different states, primarily from the U.S. Midwest.

Now 71 years old, Stephen James is not letting age get in the way of his annual fishing journey to northern Saskatchewan. He intends to keep coming back to Hatchet as long as his health will allow. "They may have to strap me into the boat someday."

That fishing boat will belong to Hatchet Lake Lodge. Steve has fished the salt waters of Florida and Texas and Hawaii. He has fished Alaska's salmon rivers and lakes in Manitoba and Ontario. But his days of exploration are over. He has found his place to fish. "I think Saskatchewan is one of the greatest fishing secrets in the world."
Find an Outfitter
Luxurious remote lodges to do-it-yourself adventures, find an outfitter that best suits the experience you are looking for.
Plan your trip
Check out photos people have taken