All-Inclusive Hunting in Saskatchewan: What It Includes and Where You Should Go
Saskatchewan might be the best under-the-radar hunting destination in North America. The "prairie" province is a hunter's haven. It's wild forests and prairie potholes, provide incredible big game and bird hunting, without the crowds. There's plenty to get excited about: Vast wide-open spaces, pristine boreal forests inhabited by massive black bear and moose, trophy white-tailed deer, huge flocks of waterfowl and large numbers of game birds across the province.
Not to mention, Saskatchewan provides an opportunity to get off-the-grid and into the backcountry. Most wilderness hunting lodges – including fly-in lodges – provide access to untouched hunting grounds. And one of the most common types of packages is the all-inclusive get-away. Although the accommodations and services of an all-inclusive trip vary by lodge, most include a few key services, including trophy preparation, meals and guided hunts. That's what makes all-inclusive trips great for visitors. Hunters can focus on the thrill of the hunt, without worrying about the details.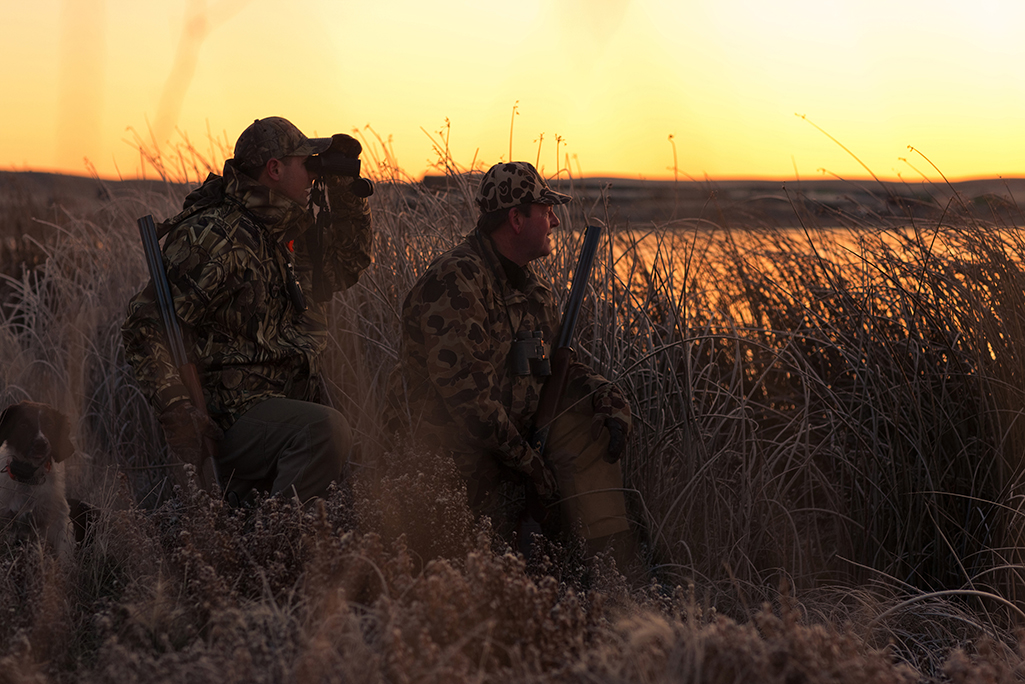 Big Game Hunting
Saskatchewan has two primary natural regions. The southern half of the province is a vast prairie of golden, rolling hills, known for its wide-open spaces and gorgeous sunsets. Up north, aspen parklands transition to the spruce and jack pine that dominate the boreal forest. These two regions offer incredible hunting, although where you go really depends on what you go to hunt.
White-Tail Deer
If there's a species that Saskatchewan is known for, it's the white-tailed deer. The province is a world-class white-tail destination, and thanks to genetics and habitat, record-sized deer are a common sight. In fact, the largest white-tail in North America – with an inside spread of 27.2 inches – was taken in Saskatchewan.
White-tail hunting is great across the province, from the central parklands to the forest fringes. It's important to note that hunters traveling from outside of Canada will need to use an outfitter when hunting white-tail in Saskatchewan. Guided white-tailed deer archery, muzzleloader, crossbow, shotgun and rifle seasons are in place in portions of some forest fringe zones. For additional information contact a Ministry of Environment office.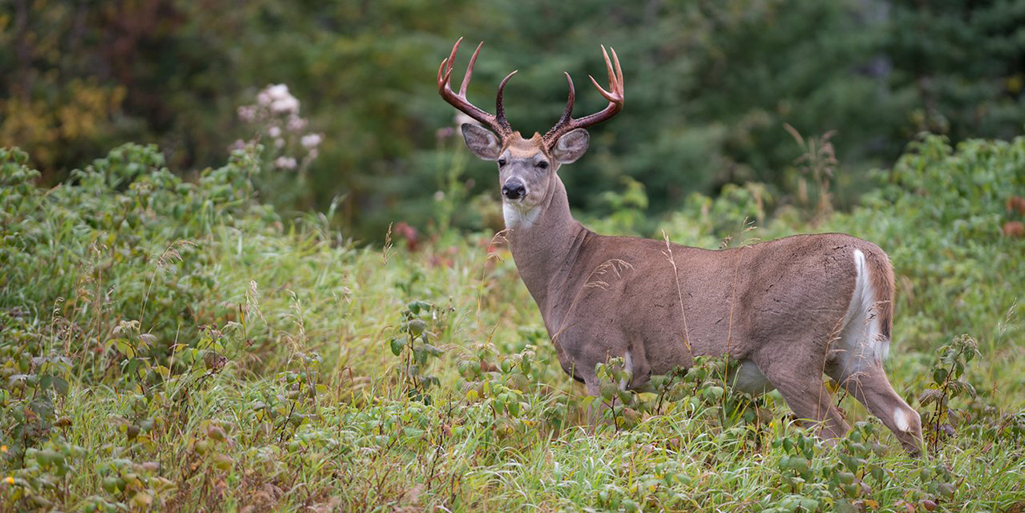 Black Bear
The highest population of black bear is in the northern forest, up to Saskatchewan's northern boundary with the Northwest Territories. Here, they're gargantuan. Reports of 400- to 500-pound bruins are common every season. And that's due in part to the remoteness of many of the camps and lodges in the north; the species hasn't been overhunted. Many black bears in northern Saskatchewan die of old age.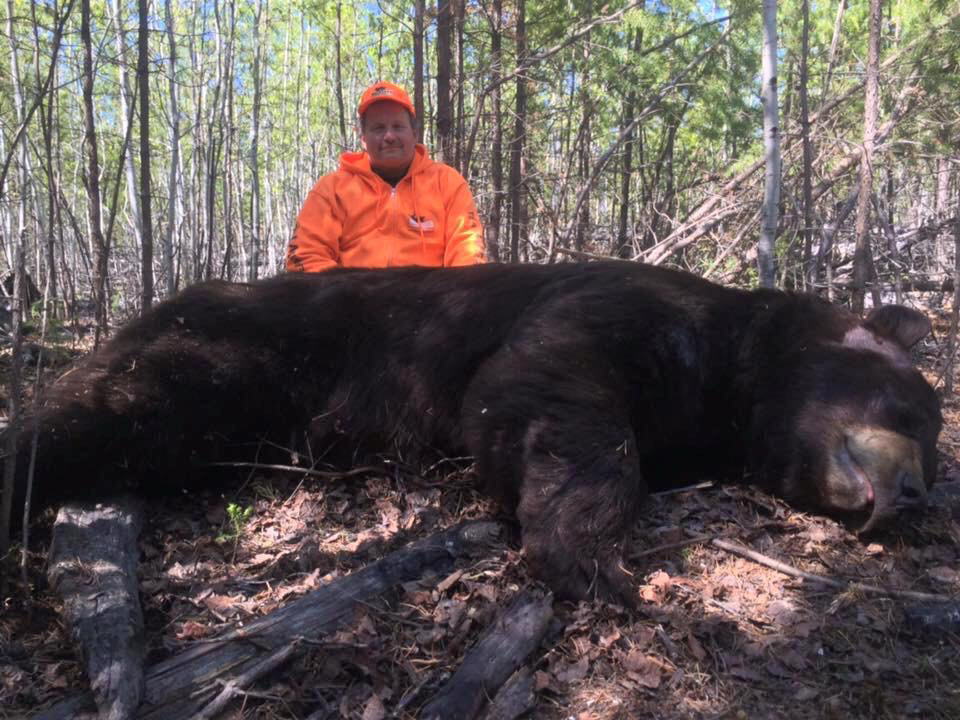 Moose
You'll find moose in the northern forests: Alaskan, Western and Eastern moose. Moose weighing 1,300 pounds or more in Saskatchewan are very common. The north offers prime moose habitat; there are more than 100,000 lakes in the province, which draw moose to their shorelines.
Game Bird Hunting
The secret is out about Saskatchewan's world-class waterfowl and upland hunting. The southern and central portions of the province offer prime habitat, and millions of birds pass through on annual migrations in the fall. You may choose to fly or drive. Depending on your final destination, you might fly into Saskatoon or Regina.
Waterfowl
There is an abundance of waterfowl habitat, especially in the Prairie Pothole region. Here, you'll find mid-grass and tall-grass prairies, with thousands of naturally occurring wetlands in small "potholes." Waterfowl flock here in the millions every season, as the region sits amidst the Central Flyway. Pintails, mallards, Canada, white-front and specklebelly geese fill the skies each fall.
Upland Species
Numerous upland game species inhabit the prairies as well. You'll find sharp-tailed grouse, ruffed grouse, and Hungarian partridge. Many of the outfitters offering upland hunting are located in the south, or the moderately forested regions in central Saskatchewan.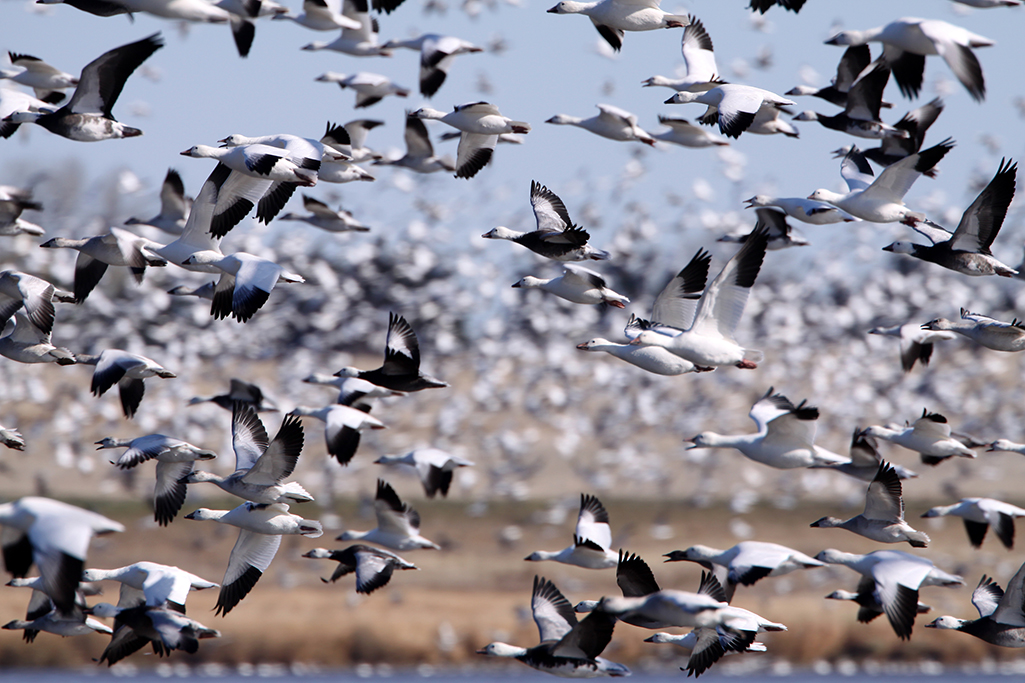 What's Included in an All-Inclusive Hunting Trip
All-inclusive implies that everything is included. And for the most part, that's true. Saskatchewan's outfitters provide a wide-range of services in their all-inclusive hunting packages. But here are some of the services you can expect.
Taxes
Your booking fee includes all tax.
Lodging
Accommodations vary by lodge. You'll find a wide range of offerings, from bunks, to staterooms.
Meals
Most lodges provide three meals per day, as well as snacks and non-alcoholic beverages.
Guide
All-inclusive trips are typically guided; oftentimes your guide will stay with you during the hunt and offer insider's tips about animals daily routine.
Transportation
Some trips require ATV and boat travel to get to the stands. Any transportation fees, including floatplane costs, are typically included in package pricing.
Other Costs
Every lodge has its own packages. And for some, all-inclusive includes everything you could imagine – including licenses and tags. But that's not always the case. When you book a hunting trip, confirm with the outfitter if these services are included.
Trophy Preparation
The majority of lodges provide trophy preparation, but with some, it's an additional fee.
Bird Cleaning
A few lodges require you to do your own bird cleaning, but most offer this service for a fee.
Pick-Up and Drop-Off
Some lodges will provide travel to and from the major airports in Saskatoon and Regina. Many drive-in lodges, though, require guests to make their own travel plans.
Licenses and Tags
Some outfitters provide licensing and tags when you arrive at no additional fee, while others require payment when you arrive.
Guide Tips
Tips for guides are not included in price. Typically, 7-15 percent of the trip cost is customary.
Alcohol
For many of the lodges, alcohol is not included in their meal packages. Guests are required to pack their own supply for the trip.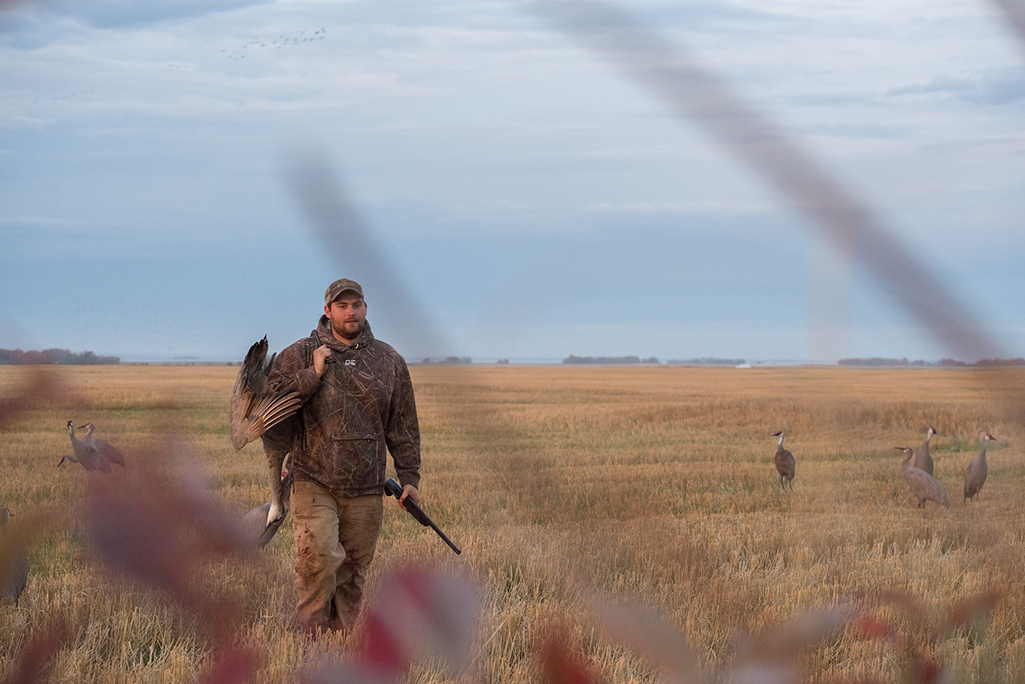 Types of All-Inclusive Experiences
Saskatchewan's outfitters provide a range of experiences. You'll find luxury lodges tucked away deep in the boreal forests, as well as rustic, no-frills cabins and efficiency basecamps. The majority of these lodges are situated in the middle of some of the province's most beautiful natural settings. If you go, there are two types of experiences you can expect.
Fly-In Lodges
Board a classic floatplane and venture into the Saskatchewan wilderness. A handful of lodges in the isolated northern corners require a short bush plane journey, and provide a truly off-the-grid experience.
Drive-In Experiences
Many of the lodges are accessible via roads. Some require you to drive in yourself, while others offer drop-off and pick-up from local airports. Either way, many of these lodges are nestled in beautiful prairie or forested landscapes.
Self-Guided
Upland and waterfowl hunts don't require non-residents to hire an outfitter, however your chances for success increase when using one. Many lodges offer all-inclusive accommodations – which includes meals, lodging, bird cleaning.
When to Go: Hunting Seasons in Saskatchewan
Saskatchewan offers hunting from April to December each year. Fall weather can be fairly unpredictable so packing the appropriate gear is very important. All lodges will provide the necessary information to ensure you bring what's required. With the exception of a spring bear hunt, big game, waterfowl and upland game bird seasons are restricted to the fall.
Spring
Black Bear – April to June
Fall
White-tail – September to December
Moose – October to December
Black bear – September to October
Waterfowl/upland – Seasons start in September/October, depending on species
For the Best in All-Inclusive Hunting, Head to Saskatchewan
It's easy to see why Saskatchewan is a bucket-list hunting destination. The province offers something for hunters of all experience levels and to fit any budget. Whether you want to rough it, or pamper yourself after a long day in the field, you'll find an all-inclusive lodge that serves your needs. Bottom line, no matter what you choose, you'll be rewarded with a lifetime of memories, and, with a bit of luck, a new trophy. U.S. residents who come to Saskatchewan to hunt big game must use the services of licensed outfitters. These outfitters, who provide a range of services and accommodations, help to ensure that your hunt is a successful one. Non-residents can hunt game birds without the services of an outfitter, but, here to, using an outfitter will help get you into great bird action and take the stress out of planning a successful trip.
Find an Outfitter
Luxurious remote lodges to do-it-yourself adventures, find an outfitter that best suits the experience you are looking for.
Plan your trip
Check out photos people have taken