The World Goes Quiet: Ice Fishing for Pike on Tobin Lake
It was March of 2021, and I was headed east to Tobin Lake, Saskatchewan, for my first ice-fishing trip away from my home province of Alberta. I was searching for big, feisty northern pike and beautiful skies, and I was not to be disappointed.
As I began it was -1 C, and the wind ripped across the lake at 50 to 60 kilometres an hour. On the ice I met my good friend Collin, who is also a passionate angler, and we set out to land some giants on one of Saskatchewan's premiere lakes. While outdoor activities such as ice fishing offer a great chance for solitude in a natural environment, they can also be a fun activity to share with a friend. This particular trip fell on my birthday weekend, and I was happy for the good company.
Throughout the first hour it was quiet under the ice. The sun was trying to peek through the cloud cover, but the strong gusts of wind covered the rays quickly. To pass time, I cleaned the holes as a thin layer of ice reformed, checked the bait, and continued waiting. The high winds sometimes triggered false flags, and each time I allowed myself to enjoy a moment of hope before having it dashed.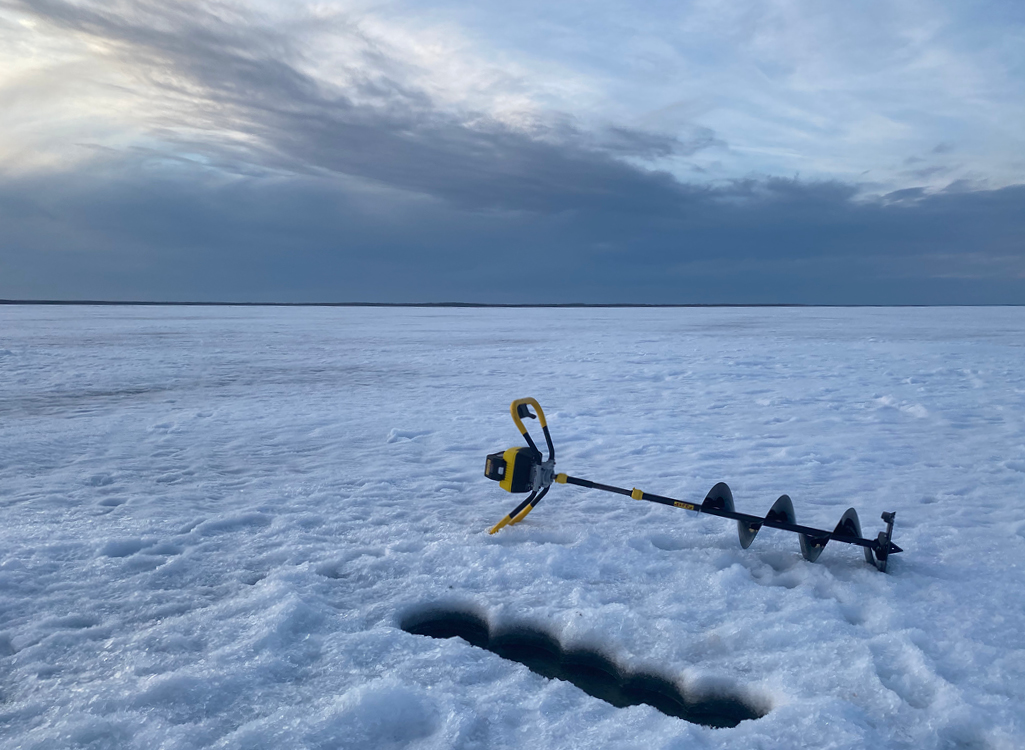 I could not get over these skies. WOW! There were so many moments where I would just sit back and watch every cloud fly by, each one altering the magical landscape. Saskatchewan is truly the "Land of Living Skies!"
As I enjoyed nature's beauty, I turned around to see the first flag up. Sprinting over, I saw the fish was on a powerful run, taking a lot of line; this one was strong, full of energy and definitely wasn't coming in without a fight. From the moment I set the hook, it was as if the world went quiet and then stopped. I didn't hear the noises above the ice; all I heard was silence.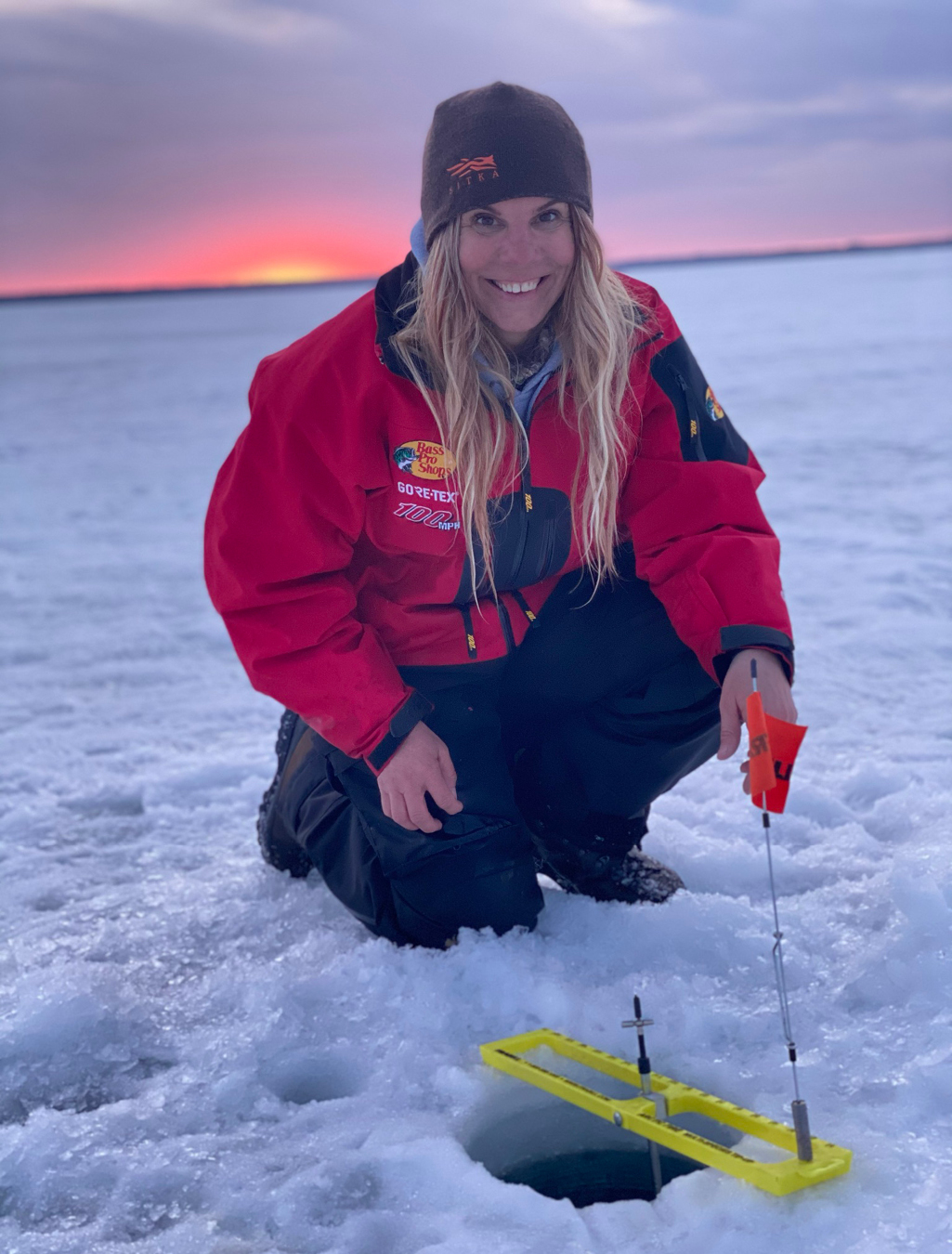 My 50-pound test line had a single J-hook baited with a 10-inch frozen herring. A pike's mouth has hundreds of sharp teeth, which allows them to clamp down on their prey without letting them get away. I felt her determination and strength as the line pulled through my fingers. I noticed my body shaking. A rush of emotions came over me when I looked down the augured hole to see her trophy, elongated, dark-green-spotted body swim past. My excitement hit full force as her massive head crested the top of the hole. All the noise now came racing back as I stood in awe of her stature.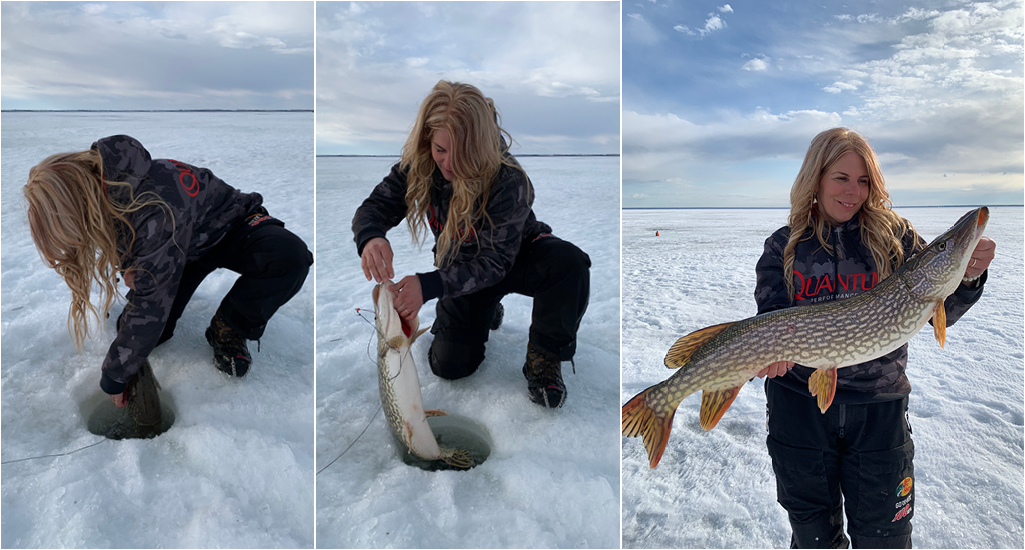 I immediately put my pike in the live well to protect her from the 50-to 60-km/hr winds, and to keep her eyes and body wet. The live well consisted of six holes drilled side by side, about 10 inches through the ice, with the seventh hole drilled all the way through. This non-contained holding well filled up with water, allowing the pike to rest and recover while I removed the hook. My fingers were cold and the wind was biting hard. As I placed my hands back in the ice-cold water, the pain and burning quickly took my hard-earned smile away.
Having to keep the pike submerged to ensure her eyes didn't freeze, I got most of my sleeves wet while removing the hook. As my pike rested quietly in the live well, pain gripped my ice-cold hands. The Saskatchewan wind let me know that it was serious, and I had an immediate need to change my wet hoodie and get some feeling back in my hands.
Within minutes, my bright red hands went back into the ice cold water, and I ran my fingers along the pike's massive gill plate. In one swift motion, I used my other hand to support her majestic body for a quick picture.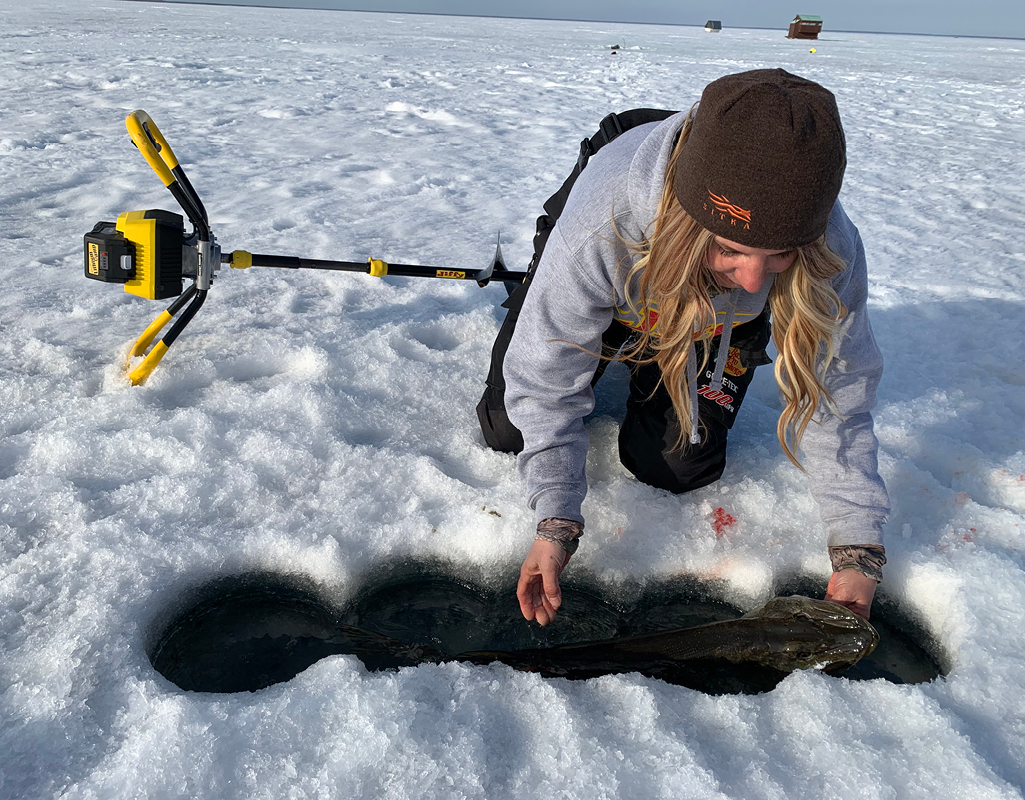 Catching trophy pike always excites me, and even more so when I bring them through the ice. It's a true challenge to time the setting of the hook, when to let those big pike run and when to start retrieving the line. Trying to keep the line away from the ice walls of the hole so it doesn't get cut adds another level to the tug of war.
I really enjoyed an epic couple of days on the hard water, with many great pike caught and released. Summertime brings with it so many joys, but it's great to have some breathtaking winter sports to anticipate during the colder, darker months. I look forward to my return to Tobin Lake and my next battle with one of the beautiful pike that call it home.
Find an Outfitter
Luxurious remote lodges to do-it-yourself adventures, find an outfitter that best suits the experience you are looking for.
Plan your trip
Check out photos people have taken